CLICK TO LISTEN TO US
Welcome to Wicca Radio International, We are your power radio station for the best variety of Wiccan, Pagan, Celtic, Folk & Native American Music, As well as a selection of hits from Today and Yesterday..
We are located in New Orleans, LA USA, and are so glad you have decided to come join us to listen to some good music.
if you have a special request and/or dedication please use the request form at the bottom and we will try to get your request filled A.S.A.P. (Usually 10 Minutes or Less) As long as we have the requested music.
Please tell your friends about our station & please be sure to LIKE us on Facebook. Our fan page is at https://www.facebook.com/WiccanRadio
Our daily lineup includes artists such as:
Loreena McKennitt
Inkubus Sukkubus
Cernunnos Rising
Wendy Rule
Lisa Thiel
Celia
Jaiya
Heather Dale
Medwyn Goodall
Robbie Robertson
Damh The Bard
Celtic Woman
Enya
Lila (AKA - Lindie-Lila)
Sarah Brightman
Carole King
Lindsey Stirling
George Nicholas
Nana Mouskouri
Robert Mirabal
Douglas Blue Feather
Switchblade Symphony
Enigma
and many more great artists 7 days a week, 24 hours a day
Less talk, More music!

For our fans and site visitors we also offer free video/voice/text chat Join The Chat HERE

You do not have to have a cam & you do not have to register, This chat system is better than Pal talk & we have no limitations on viewing/using your cam.. (NO ADULT CONTENT ALLOWED)
...
CLICK HERE TO VISIT HIS FEATURED ARTIST PAGE
Get our moble app from Google Play
Click Image Below
Easy to use app with instant share function. Turns radio automatically off, when you receive a call! To share radio stations, press long and click "share" Please tell your friends about our station with this share button!
If you do not want to use the player above, Then stop it and select one of the players below to hear our station live
This is a real nice player which opens in a separate window so you can browse the internet
while listening to our station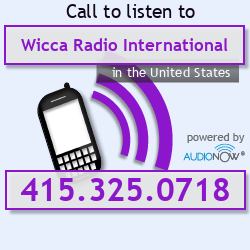 CURRENT ONLINE DJ

Recent Tracks Played
These are the last 10 songs we have played
Song Requests & Dedications
Please fill out the form below and submit it to request songs and/or dedication.
It usually takes about 10 minutes or less to get to your request, If we have the requested music.
Please take the time to make a donation to Wicca Radio international
We are supported by our listeners to provide the music to you..
Thank You Click the button below to make you donation..
Wicca Radio International Is Sponsored by:
&
Wicca Radio International Is Powered By
PLEASE LIKE US ON FACEBOOK!
Southern USA Weather Forcasts

Please Follow Us On Twitter
Please press the Like Song Button to show your support that you are listening to Wicca Radio International
LISTENERS CURRENTLY NOW TUNED IN MAP
Radio Station Stream Info
Current song: Loading ...
Stream title:
Bit rate: 320 Kbps
Current listeners: 4,933
Maximum listeners: 100,000
Server status:
AutoDJ status: Not Being Used.. Live DJ Is On Duty
Source connected:
Station time:
Current playlist:
Track details: - -
Raw metadata:
Album image:

Buy this album
>
Current Song and Artist information
All content, text, graphics & .html © 2005 - 2019 By Wicca Radio International, Rainbow Reach Broadcasting Services. unless otherwise noted.
Use without written Permission grants you bad karma and repercussions from United States copyright laws.
All rights RESERVED.
Proud Member of The Rainbow Reach Broadcasting System